It's never a bad idea to be more mindful about your drinking. That can be easier said than done if you want to go out with friends who are drinking alcohol.
Whether you're taking a break from drinking for Sober October or are the designated driver for the night, you don't need to stick to water or whatever is in the soda gun. Sip on something delicious from our list of the best non-alcoholic drinks to order at a bar.
And if your friends are coming over to pre-game at your place before going out, serve up Surely's delicious Non-Alcoholic Sauvignon Blanc!
Non-Alcoholic Sauvignon Blanc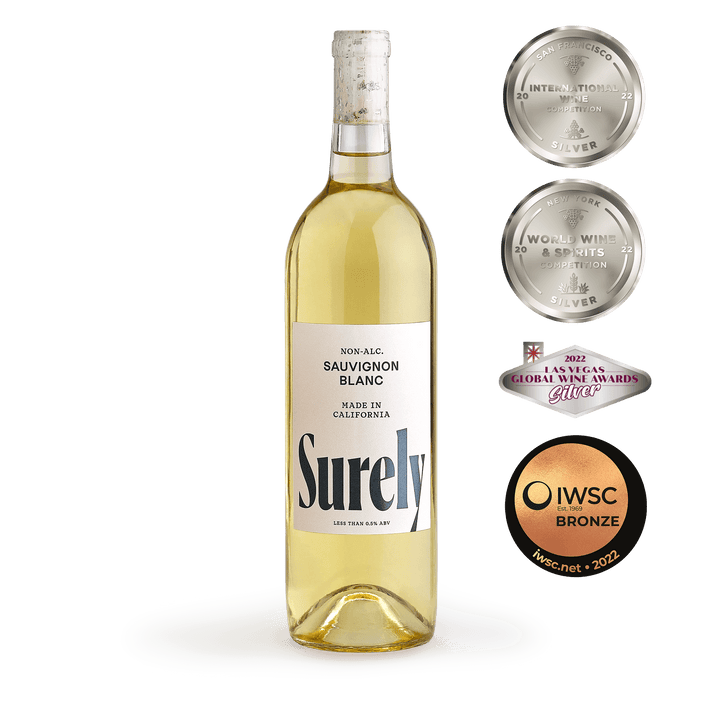 $22.99
Award-winning alcohol-removed California Sauvignon Blanc. Citrus meets pear and apple to create a crisp, bright, dry sip. TASTING NOTES: Crisp, clean, and bright like a diamond. This perfectly balanced, dry Sauvignon Blanc is citrus-forward with soft pear and sweet apple… Read More
What is a good non-alcoholic drink to order in a bar? A good non-alcoholic drink to order in a bar is an alcohol-free version of classic cocktails. Your bartender will already know how to make them. They'll just leave out the alcohol in your version or make an appropriate substitute.
Ask your bartender to get creative and add their favorite bitters to a classic soda. Most bars are trying to be more inclusive to patrons who don't drink, and rumor has it, you might even get a few free alcohol-free drinks here and there.
Table of Contents
Ordering Non Alcoholic Cocktails at the Bar
As the sober curious movement gains momentum, more restaurants and bars are offering specialty non alcoholic (NA) cocktails for people looking for something to drink other than alcohol. Don't settle for water when you could be sipping something tasty!
If you've never asked for an NA beverage before, you may be wondering:
How do you order non-alcoholic drinks? To order a non-alcoholic drink, simply ask the bartender or server if they make any specialty mocktails, NA, or virgin drinks — whichever term feels right to you. If you're trying to be discreet, ask for a drink menu to see for yourself.
What non-alcoholic drink is most like beer? The non-alcoholic drinks most like beer are NA beers. Check out our favorite NA beers here!
If you're looking to be more prepared ahead of time, consider ordering these delicious non-alcoholic beverages next time you go to a bar.
1. Virgin Wine Spritzer
Non-alcoholic wine brands like Surely have been making the rounds at dry weddings alongside non-alcoholic beer and non-alcoholic spirits. People want options beyond the usual mocktails.
If you're lucky enough to be in a bar with non-alcoholic wine, you can have a cocktail that tastes just like the real thing. For a delicious wine spritzer, try Surely's non-alcoholic sparkling white or a classic pink rosé topped with sparkling water. It's all the fizz without the booze.
2. Non-Alcoholic Moscow Mule
If you're a fan of ginger beer, you won't miss the booze in a non-alcoholic version of a Moscow mule. Made with ginger beer, fresh lime juice, club soda, and a lime wedge garnish, this one is as refreshing as it gets! Ask to sub the soda with apple juice or cider for a seasonal twist.
3. Virgin Mojito
There's still muddling involved in a virgin mojito, so depending on the bartender, they'll either love your order or hate it. The only difference is the lack of rum. Soda water, sugar, and generous mint leaves make this a refreshing choice.
4. Non-Alcoholic Old Fashioned
Leave out the whiskey, and it's about the quality of the ingredients in a virgin old-fashioned. If you're at a sober bar that carries non-alcoholic spirits like Seedlip, their spiced version is a solid alternative. Otherwise, try an herbal tea mixed with bitters and citrus for a similar flavor profile.
5. Roy Rogers
Shirley Temple fans have some competition with the classic Roy Rogers. Instead of Sprite, the Roy Rogers uses coke and grenadine topped with maraschino cherries. It's a super sweet addition to your mocktail repertoire. Diet soda cuts the calorie content, but opt for craft cola if you're at a bar with craft sodas.
6. Ginger and Juice
Non-alcoholic ginger beer is an excellent base for mocktails. Round out the spice with some sweetness and whatever juice the bar has available. Cranberry juice or pineapple juice work great. A ginger lemonade also sounds delicious if there's lemonade available.
7. Simple Syrup and Soda
Most cocktail bars will have a few simple syrup options behind the bar. Ask your bartender to hit your soda with a splash of flavored simple syrup, and it'll be like sipping on an adult soda. Garnish the concoction with a sprig of mint or slice of citrus for the full effect.
8. Virgin Piña Colada
Whether you're actually on an exotic vacation or attending an island-themed singles mixer in New York, a piña colada just feels tropical. You don't need to ask for any difficult substitutions with this one. Just ask your bartender to omit the rum. It'll be sweeter that way, but that's OK.
9. Soda and Bitters
This non-alcoholic drink looks the part. Combine seltzer or soda water with a dash of bitters, and your soda will take on whatever flavor notes are in those aromatics. Keep in mind that there is some alcohol in bitters, but the amount used in cocktails is so minuscule it's hard to quantify.
10. Virgin Bloody Mary
A virgin bloody mary is one of the easiest brunch cocktails to order while you're out. It's the same tomato juice drink, just without the alcohol. If you're missing some of the bitterness that comes with vodka, ask if they have olive or pickle juice. A dash of either will add that necessary bitter and salt.
11. Fizzy Fruit Juice
Sip on your favorite juice but make it fizzy by topping it with soda water. If you don't like anything too sweet, stick to grapefruit juice. Orange juice and soda water is a solid take on a virgin mimosa. If you're at a brunch spot, top your fruity beverage with some fresh fruit.
12. Fancy Iced Tea
You don't need to limit yourself to an Arnold Palmer if you're moderating your drinking. The iced tea and lemonade combo is delicious, but if you're at a cocktail bar, you likely have other options. Ask your bartender about simple syrups and mixers they could add to fancy up that iced tea.
13. Virgin Margarita
Keep the best ingredients of a classic margarita intact with a virgin version. Lime juice, orange juice, sparkling water, and lemon make a delicious mix. Ask your bartender if they have agave syrup or a similarly sweet alternative to balance out the citrus. Bonus points if you get a salt rim.
14. Shirley Temple
Order this childhood classic without any irony or turn it into a grown-up version with lemon juice or lemon syrup and tonic water instead of ginger ale. Grenadine is a must no matter how you want it prepared to keep things pink. The finishing maraschino cherry is optional.
What's the most popular non-alcoholic cocktail? The most popular non-alcoholic cocktail to order at a bar is a non-alcoholic Shirley Temple, made with bright-red grenadine syrup and lemon-lime soda. You could even request whipped cream with a cherry garnish.
15. Gin-Free Tom Collins
A classic Tom Collins is a mix of gin, lemon juice, sugar, and fizzy water. Leave out the gin, and it doesn't look any different. Ask for simple syrup instead of sugar to make your spritz a little more modern. If your bar is stocked with grapefruit sodas, that could be another yummy twist.
16. Kombucha
Some bars have started carrying fizzy kombucha as a soda alternative for those seeking something funky. Since it's a fermented tea, there will always be some alcohol left behind. It's still below 0.5% ABV, though, the same threshold for non-alcoholic beer and wine brands.
17. Sunrise Mocktail
The traditional preparation for a tequila sunrise is orange juice, grenadine, and tequila. Sub tequila for another fruit juice or soda water, and it's just as delicious. If you're making one at home, drizzle grenadine against the edge of your glass at the end for that sunrise effect.
18. Coffee-Based Drinks
Espresso martinis are still having a moment, but that doesn't mean you have to sit this one out. Have yours without the side of booze and a little extra coffee if it's too sweet. If you're at brunch, iced coffee may be available. Ask about syrups or creamers to make it a little more special.
19. Non-Alcoholic Hot Toddy
Irish pubs serve this warm-up drink as a cure-all, but you can do it without the whiskey. Tea with honey, lemon, and various spices is just as soothing on a chilly day. Cloves and cinnamon are usually expected, but your bartender can get creative.
20. Boston Cooler
It isn't likely that you'll see this one at a bar unless you're in Detroit. Yes, the original rum version comes from Massachusetts, but it's Detroit that turned it into a float and made it a soda shop staple. Pour ginger ale into a glass. Top it with heaps of vanilla ice cream. There you have it.
21. Club Soda and Lime
It's so simple yet so refreshing. Order a club soda and lime, and it'll look just like the vodka version but booze-free. This one is easy enough that it may even be a free cocktail if your bartender is feeling generous.
Non-Alcoholic Wine Will Leave You Feeling Fine
Whether you're at home creating your own NA wine cocktail or ordering one from the bar, Surely non-alcoholic wine is the perfect way to enjoy your drink.
If you're considering sending wine as a gift or finding an accompanying wine gift, we can answer those questions, too.