Gifts of alcohol are a common way to go when you're not sure what to get someone. While it's easy to pick up a bottle of wine on your way to that party, there will be occasions where it's not all that festive for the receiver.
That host or acquaintance of yours could be sober curious, or even in addiction recovery. We know you can do better, too. You'll just need to get a little more creative when it comes to gifts for non-drinkers.
What do you buy a sober person? You can buy anything for a sober person that isn't alcohol, from physical items to experiences that may feel more personal. Amazon is a great place to search if you want to skip the checkout line. They even offer to send in a gift box for a small cost.
Perhaps you're searching for the ideal gift for loved ones who don't like wine. Or maybe you don't want to find yourself in the awkward position of offering booze to a sober friend. Whatever the case, there are so many non-alcoholic gifts. Our gift guide covers 50+ thoughtful gift ideas!
If you're looking for a true alternative to the usual gifted bottle of wine, give the gift of Surely. Our non-alcoholic red wine is the perfect harmony of dark fruit intertwined with velvety vanilla, luxurious oak, smoky nuances, and subtle spices.
Non-Alcoholic Red Blend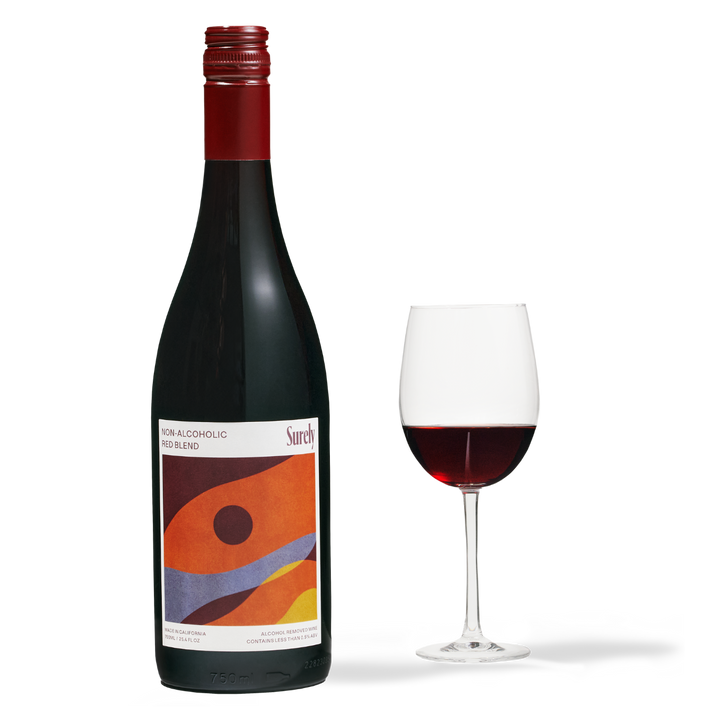 $26.99

A complex, smoky, and layered NA red unlike any other. Dark fruit meets smooth vanilla, toasted oak, smoke & spice. Not a varietal. A completely unique sip.… Read More
Table of Contents
Sober Party Host Gifts
It's just good manners not to arrive at a party or housewarming empty-handed, even if you're hitting the sober barafterward.
Whether you're attending a party for a host who doesn't drink or simply want to get a little more creative with your gifting, try these great gift ideas:
A fun party game: You know you have a favorite. Bring a game you love, or something that you know will be a hit with the group, like the dice game Left Center Right.
Flowers (in a vase): Flowers are always welcome if you're headed to someone's home. Bring them ready for display in a vase if you want extra kudos.
A nice serving board: The charcuterie craze isn't going anywhere anytime soon. Bring the foodie host a nice serving board or charcuterie platter as thanks for doing the heavy lifting. For a place to set drinks, consider an added gift of coasters.
Gifts for the Sober Curious Man
Finding a unique gift for some men is hard enough. Finding a gift that isn't alcohol or alcohol-adjacent can feel even harder.
By alcohol-adjacent, we're talking stainless steel tumblers, wine glasses, bottle openers, decanters, and novelty shot glasses. If you're really looking for a gift for non-drinkers, avoid those, too.
Check out these gifts instead:
A monthly subscription: Move beyond the wine of the month club. Find something they love, or you know they'll use and go with it. Think fancy razors, fun socks, and jerky for starters.
A coffee upgrade: Men love their fancy coffee, too. Upgrade their setup with a pour-over coffee maker or a gift basket of delicious coffee. Send whole beans if they have a grinder.
Something cozy: The sober man in your life deserves something that will make them feel good. Seek out weighted blankets, comfy bathrobes, or a pair of plush slippers.
Something personalized: Especially for non-alcoholic groomsmen gifts, consider customized items like a leather keychain, wallet, tape measure, or even socks.
Gifts for 20-Somethings
Young people can be hard to shop for, especially if they're just turning 21. You may think the obvious birthday gifts or holiday presents for a newly-minted 21-year-old are alcoholic by default. However, there is a growing movement of young people out there who don't drink.
What can you buy a 21-year-old who doesn't drink? For 21-year-olds who don't drink, buy alcohol-free goodies like home goods and immersive experiences. These gifts signal adulthood without the alcohol.
Consider gifts that will last, too, as the young people in your life may be just starting out in lives of their own. Try these out for starters:
Nice bedding: This is something most adults know can seriously upgrade your day-to-day. Pillows that last or a sheet set with a good thread count will all be appreciated eventually.
Kitchen gadgets: Upgrade their microwave game with a kitchen gadget that's easy to use and maintain. Trade their paper bowls for some special ceramics. Consider an electric water heater if they're a tea lover. Instant Pots are always a useful choice.
A fancy dinner out: It can be hard to find funds to cover a classy dinner out when you're in your 20s. Treat the young person in your life to a nice night out in person or via gift card.
Gifts for Your Sober Curious Close Friends
If you're buying something for a close friend of yours, the perfect gift is a personal one. Gifts you know someone will use, experiences and personalized items are all great gift ideas.
When you're looking for the ideal gift for your best friends, think about what brought you two together in the first place.
Here are a few simple holiday gifts (or anytime gifts) that work great:
Your favorite book: This booze-free option works best with the avid reader in your friend group. An added bonus is that you'll be able to talk with them about it after they're done.
A couples spa day: By couples, we mean the two of you. Spend a day of pampering with your friend. Throw in some mocktails (non-alcoholic cocktails) if you're really feeling fancy.
Something hard to find: This works well if you have a friend who moved away. Think about things they love about where they moved away from.
Gifts by Occasion
Whether it's a heartfelt thank-you gift, a milestone like the 21st birthday, or beloved traditions like Christmas, finding the perfect present for non-drinkers is a thoughtful and considerate gesture.
Gift ideas for non-drinkers on special gift-giving occasions:
Thank You Gifts
Personalized Thank-You Cards: Customized cards with a heartfelt message.
Gourmet Gift Basket: Filled with non-alcoholic treats like chocolates and gourmet snacks.
Scented Candles: High-quality candles for a relaxing ambiance. Essential oil diffusers are another wonderful option.
Birthdays
Adventure Experience: A thrilling adventure like skydiving or hot air ballooning.
Custom Birthday T-shirt: A unique shirt to commemorate this milestone.
Art Supplies Set: For those interested in creative pursuits.
Christmas
Festive Pajama Set: Cozy and stylish pajamas for the holiday season.
Holiday Baking Kit: Ingredients and recipes for making festive treats.
Personalized Ornaments: Customized ornaments for the Christmas tree.
Valentine's Day
Spa Day Gift Certificate: A day of relaxation and self-care.
Handcrafted Jewelry: A special piece of jewelry to express love.
Romantic Movie Night: A collection of romantic DVDs or streaming subscriptions.
Mother's Day
Personalized Photo Album: A sentimental album for cherished memories.
Breakfast in Bed: Prepare a delicious non-alcoholic breakfast.
Plant or Flower Subscription: Fresh flowers or a potted plant are delivered regularly.
Father's Day
Grill Master Set: BBQ tools and accessories for cooking enthusiasts.
Golf Lessons: A package of golf lessons or tee time at a favorite course.
Customized Coffee Mug: Personalized with a special message.
Graduation
Inspirational Books: Books to guide them on their post-graduation journey.
Professional Portfolio: A sleek portfolio for job interviews and presentations.
Technology Gadgets: Useful tech like tablets, headphones, or smartwatches.
Anniversary
Romantic Getaway: A weekend trip to a scenic destination.
Custom Couple's Artwork: A personalized piece of artwork celebrating their love.
Date Night Subscription: Monthly subscriptions for unique date night experiences.
Easter
Easter Egg Hunt Kit: Create a fun and engaging egg hunt with prizes.
Non-Alcoholic Sparkling Cider: A bottle of sparkling cider for toasting.
Stuffed Animal Gift: Soft and cuddly plush toys for all ages.
Wedding
Personalized Wedding Album: A keepsake for preserving wedding memories.
Cooking Classes: Lessons for newlyweds to enjoy together.
Home Decor: Stylish decor items for their new home.
Retirement
Travel Voucher: A gift card for a dream vacation.
Gardening Kit: Tools and supplies for a relaxing gardening hobby.
Personalized Retirement Plaque: Commemorating years of hard work.
We hope this list has inspired you to find the perfect present for the special people in your life. Whether it's a holiday, a birthday, or a moment of appreciation, remember that it's the sentiment behind the gift that truly matters.
Give the Gift of Alcohol Alternatives
If you're purchasing a gift for someone who wants to moderate their drinking, there are all kinds of alcohol alternatives out there for you to peruse:
Non-alcoholic spirits: No matter the spirit, there's likely a non-alcoholic drink out there for you to find. From gin to tequila, vodka, and rum, you can have your mojito mocktail and drink it too.
Non-alcoholic beer: Beer drinkers in your life looking to cut back are spoiled with choice when it comes to booze-free beer, with some brands now offering both at their breweries.
Non-alcoholic wine: This isn't your grandma's grape juice. The alcohol-removed wine, even non-alcoholic champagne, out there today tastes more like the real thing.
Non-Alcoholic Sparkling Rosé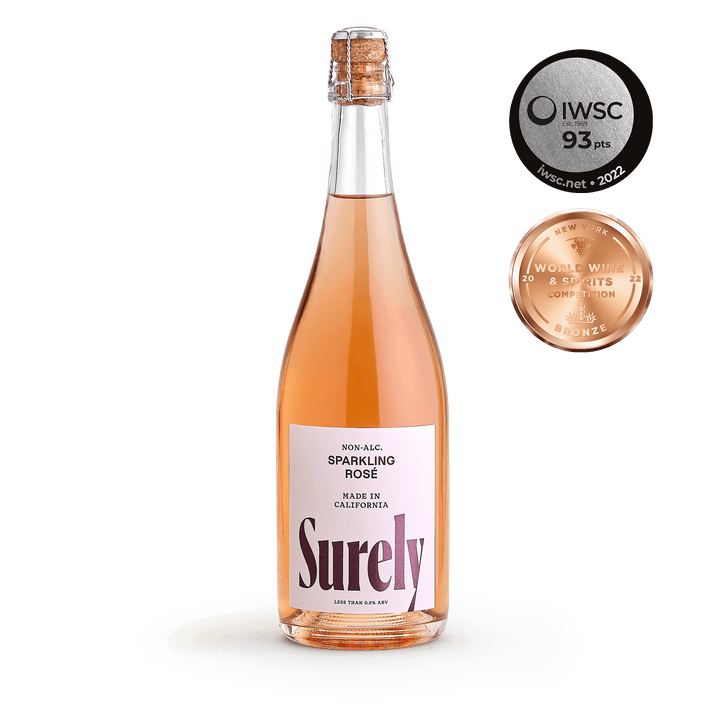 $26.99
Award-winning non-alcoholic California sparkling rosé with crisp, light notes of strawberry, pear & tropical fruits. Rosé all day without the hangover.TASTING NOTES: Flavors of soft strawberry, pear, and tropical fruit notes are balanced with a light acid for a full… Read More
Celebrate with Surely!
The holiday season doesn't have to be about working your way through alcoholic drinks. Frankly, no season has to be about drinking alcohol. Gift-giving doesn't have to be, either.
Make a gift set of your own with a mix of our favorites, from our canned Brut to our sparkling rosé. Bring a bottle of non-alcoholic sparkling white or a sauvignon blanc to your next gathering.
Non-Alcoholic Sparkling Brut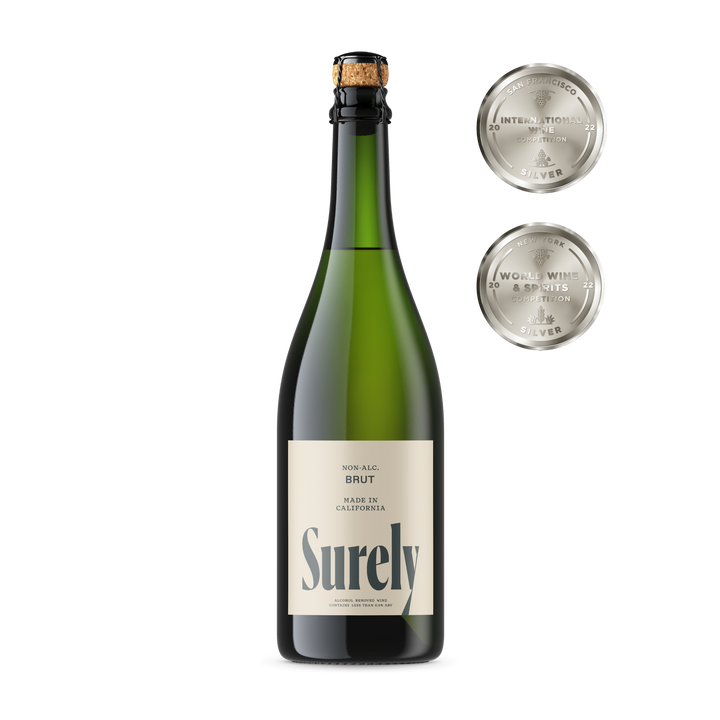 $26.99

Award-winning alcohol-removed bubbly white. Hints of lemon, peach and passion fruit with dry acidity. Better than champagne.TASTING NOTES: The vibrant combination of lemon, peach, and passion fruit create a rich flavor counterbalanced by full acidity creating a delightfully dry profile.FOOD… Read More