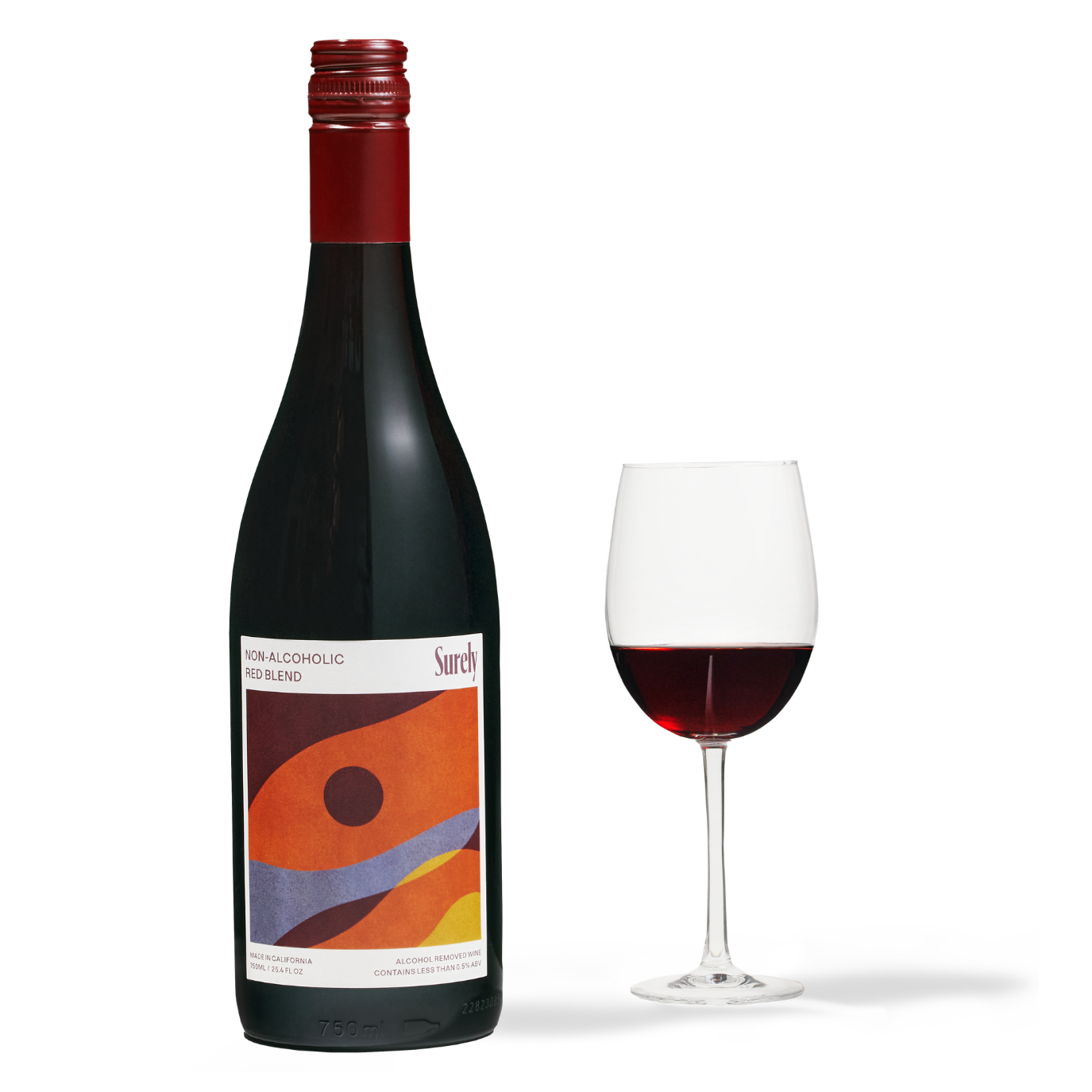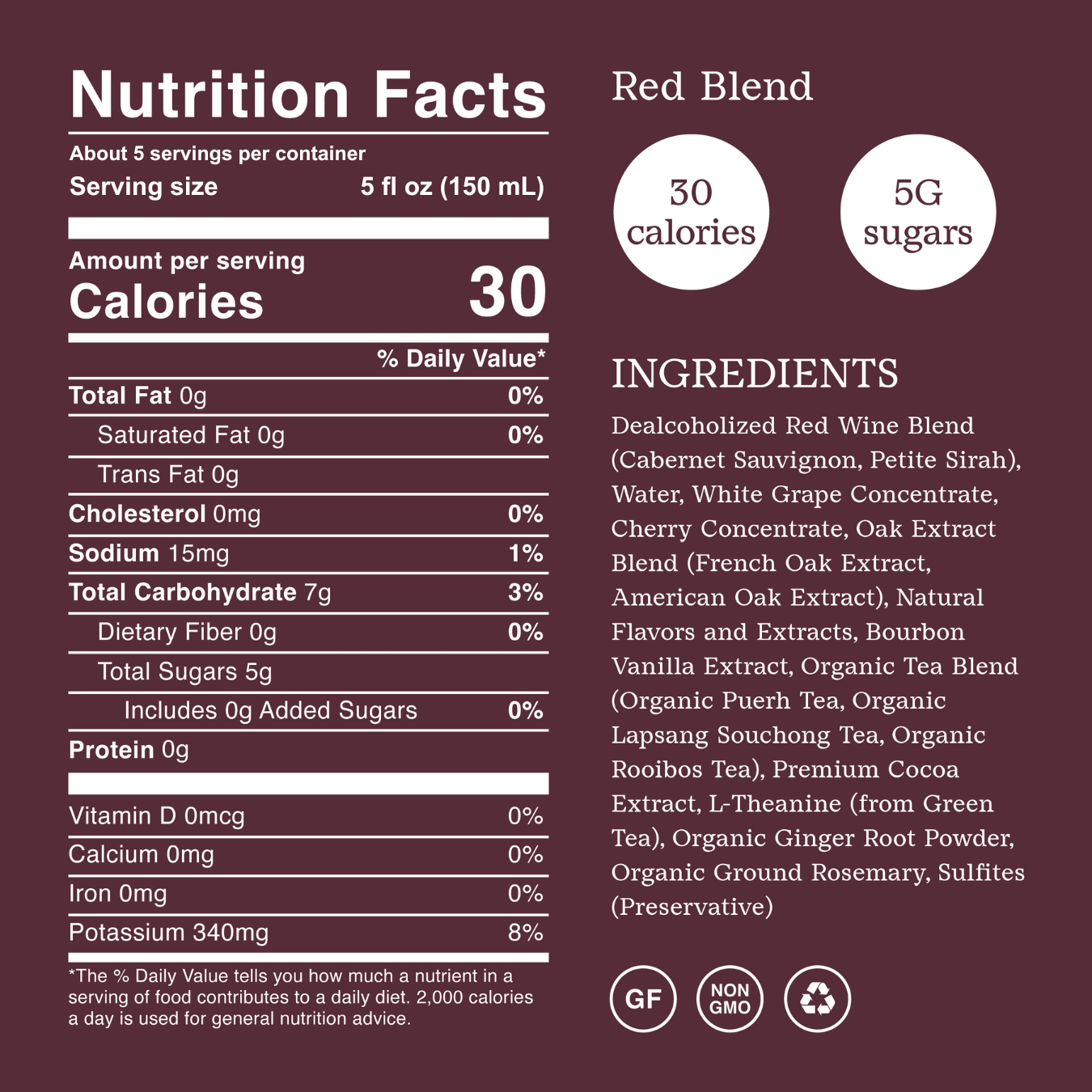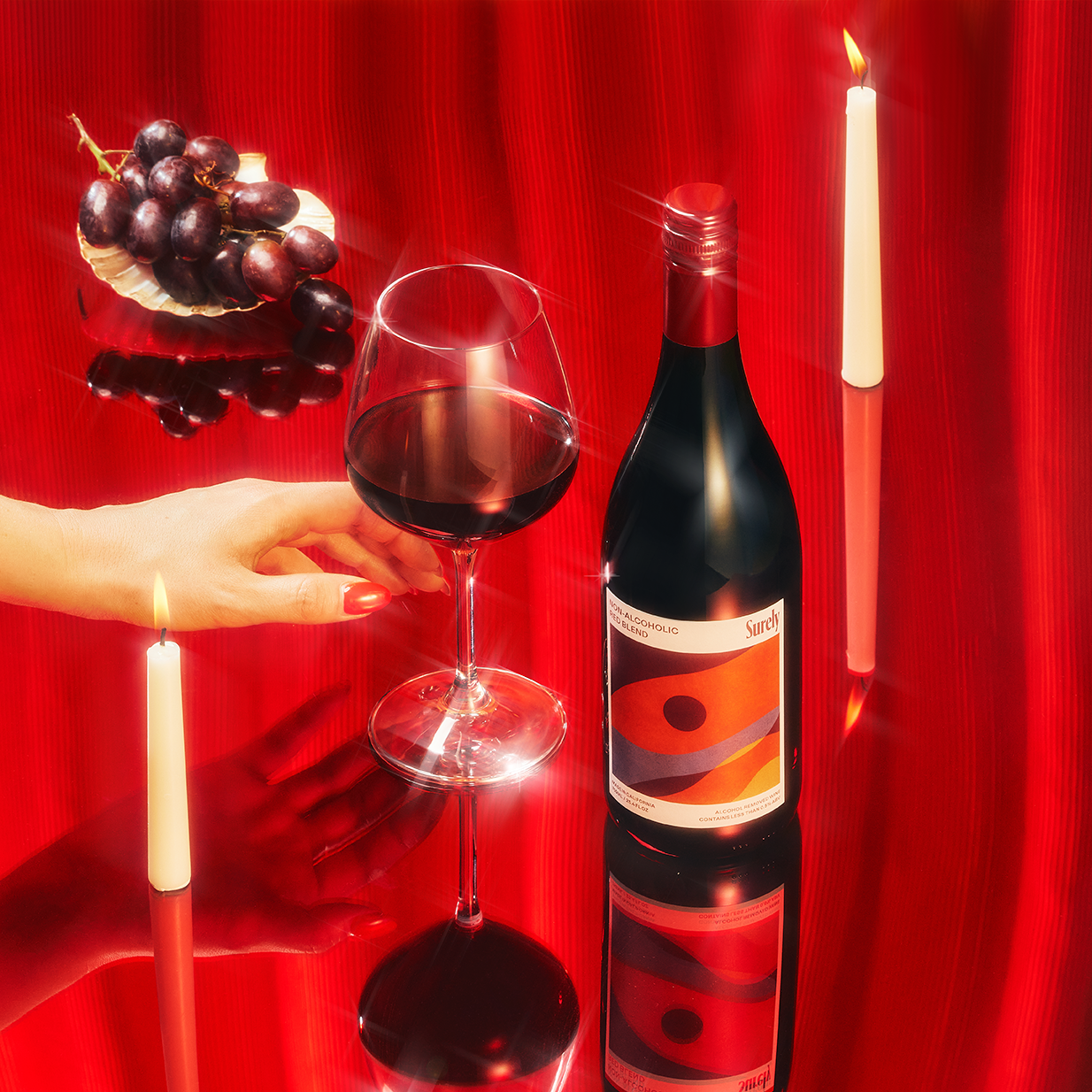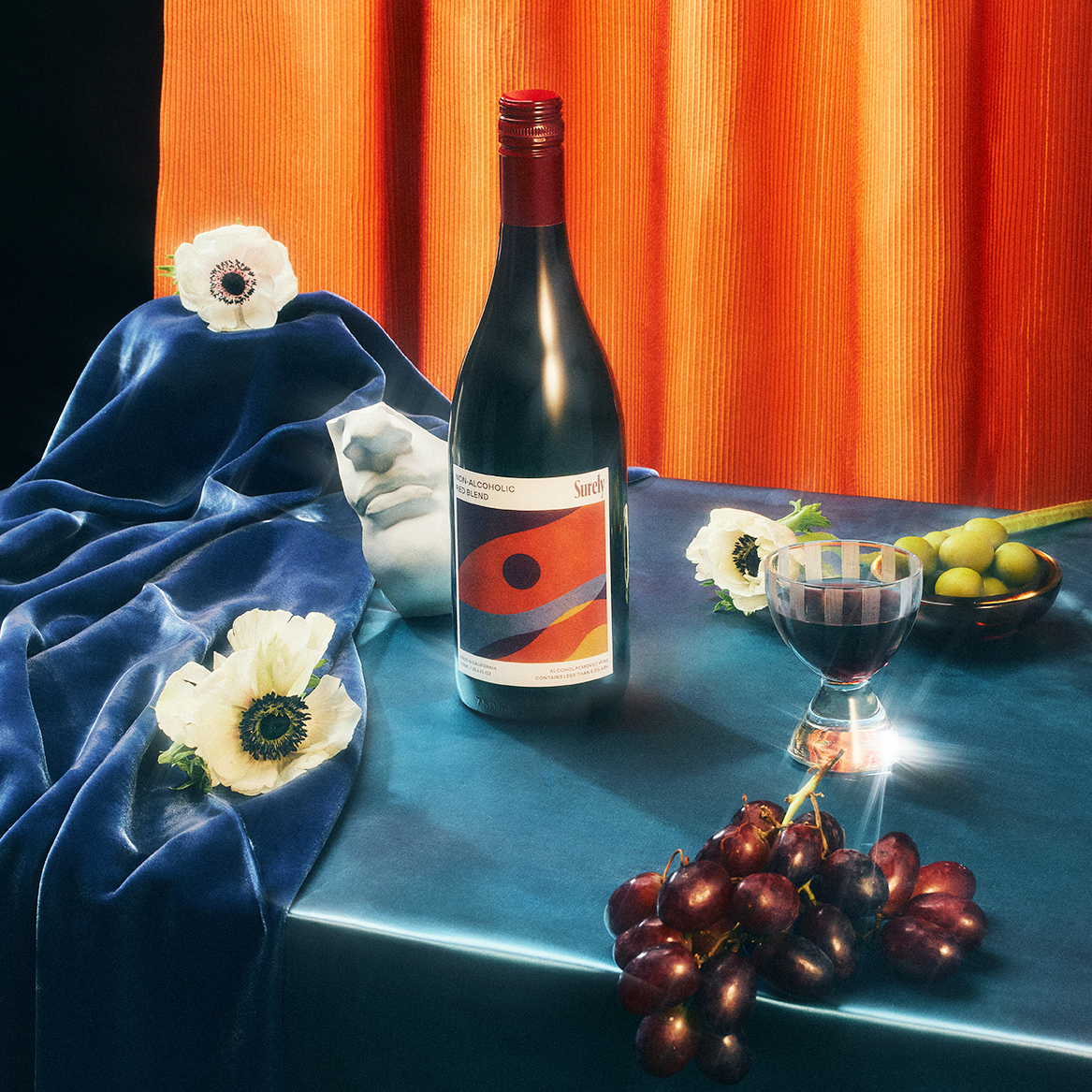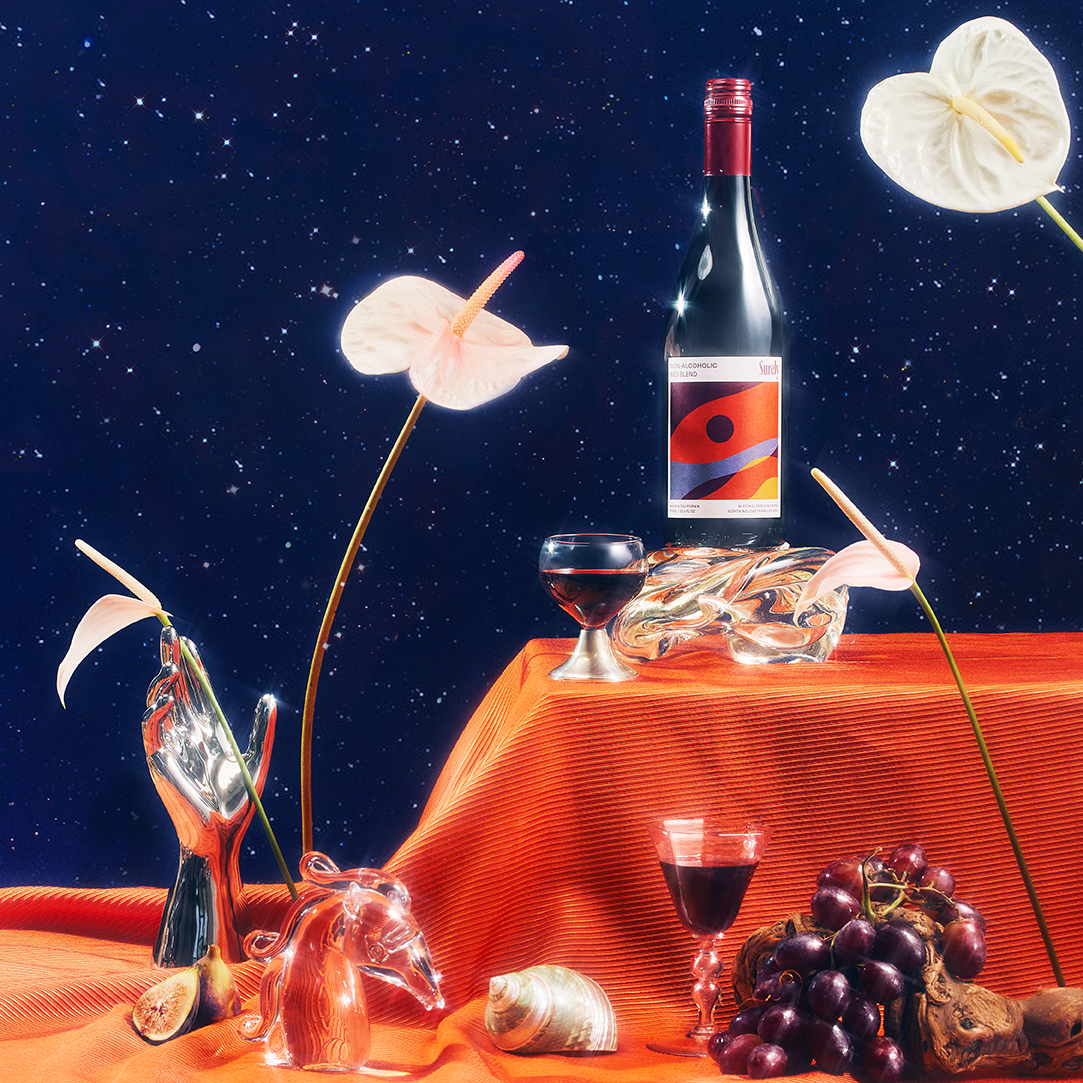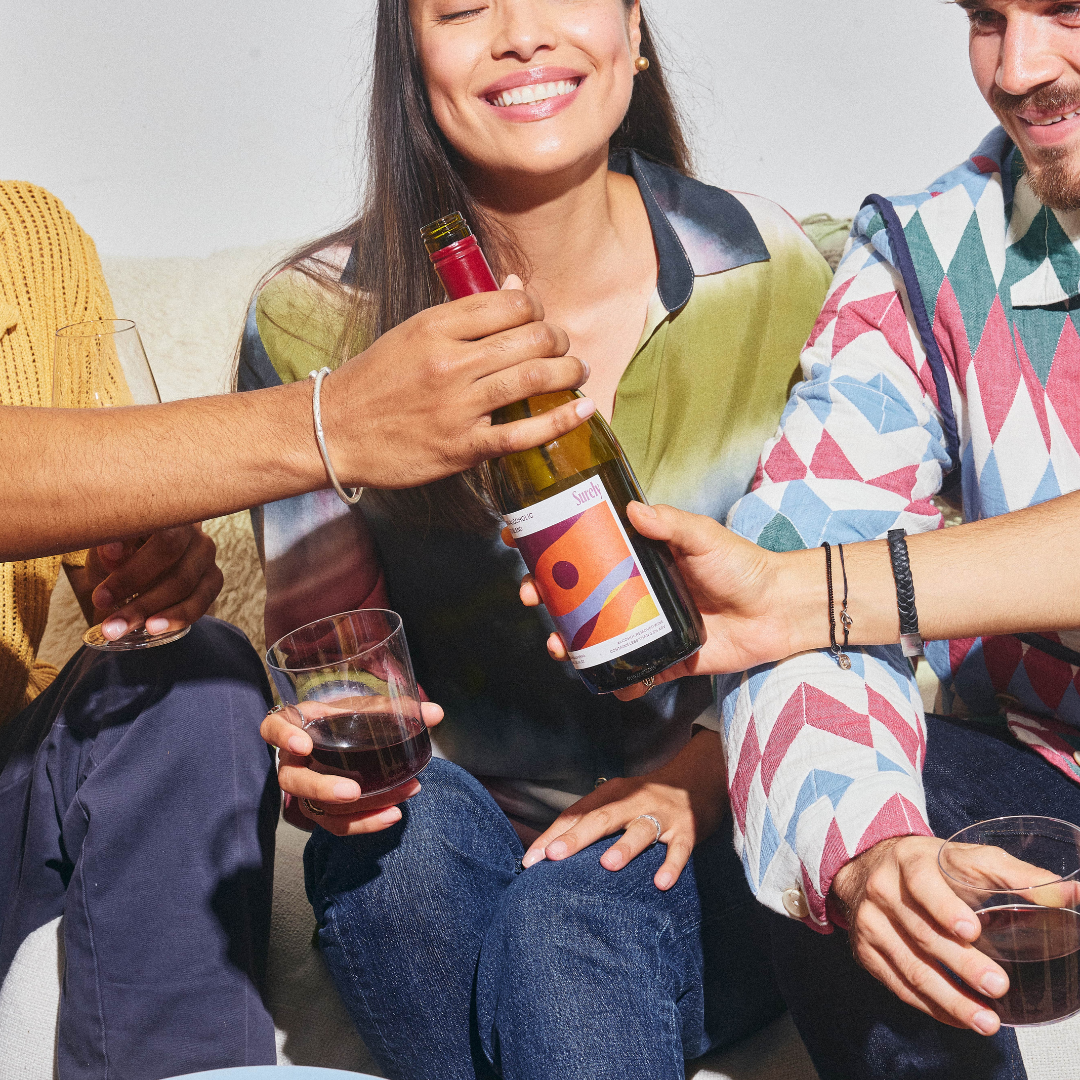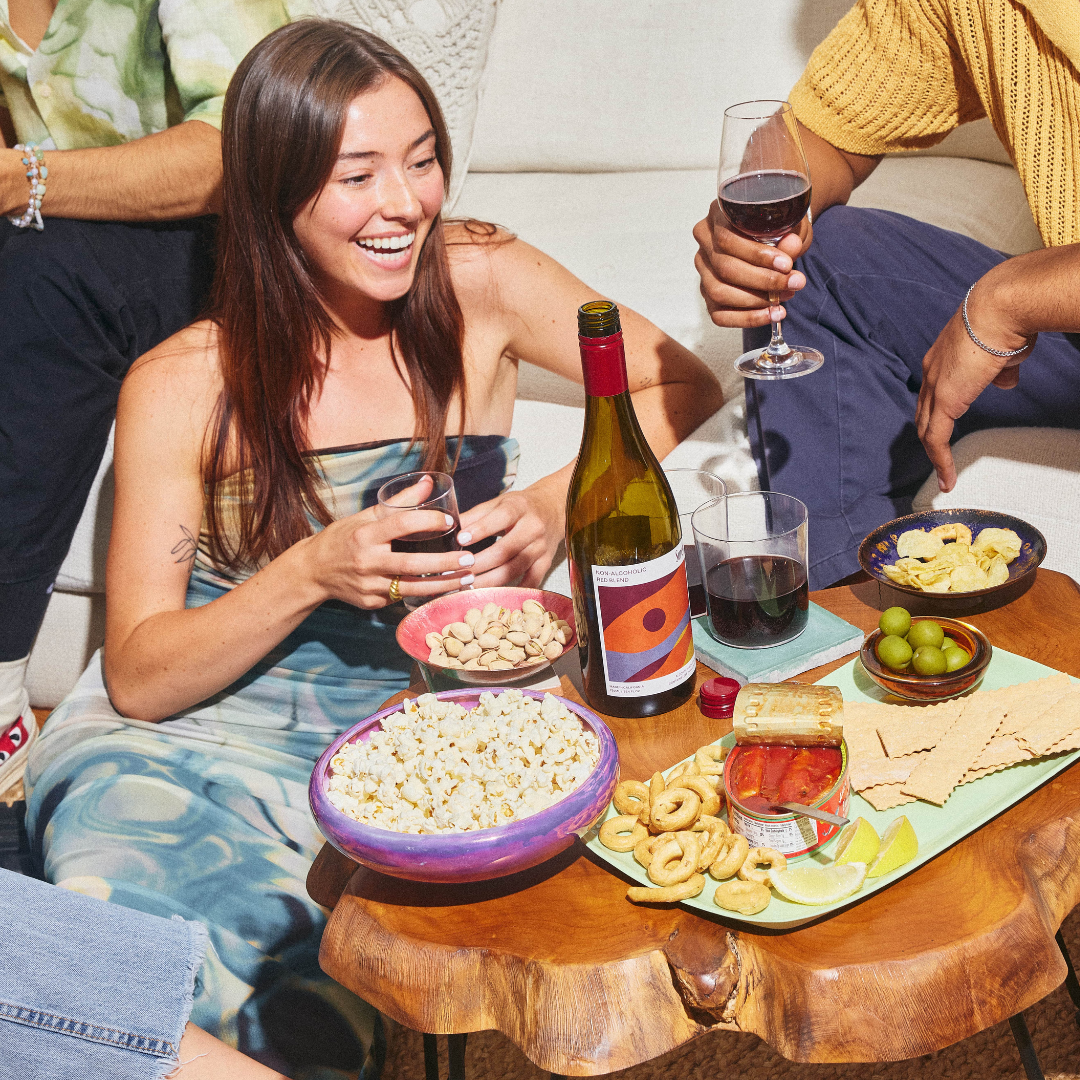 Non-Alcoholic Red Blend
750ml / 25 FL OZ.
A complex, smoky, and layered NA red unlike any other. Dark fruit meets smooth vanilla, rich oak, smoke & spice. Not a varietal. A completely unique sip.
DARK FRUIT

VELVETY TANNINS

TOASTED OAK & VANILLA

5G SUGAR
Wine Characteristics
Region: California
Color: Garnet
Aroma: Dark fruit, fresh herbs and earthy notes
Body: Medium
Tasting notes: Savory and dark fruit with velvety tannins. Black currant, smooth vanilla, fresh herbs and earthy notes of forest floor. Finishes with a touch of smoke and a hint of spice.
Sweetness: Dry
Acidity: Balanced
Tannin: Medium - Velvety
Alcohol: 0.5%
Ideal drinking temperature: Enjoy lightly chilled. Below room temperature is ideal.
Composition
Grapes: We chose a blend of premium, locally-sourced Cabernet Sauvignon & Petite Sirah. Cabernet Sauvignon was chosen for its fresh dark fruit character and Petite Sirah for its bold tannins and spicy finish.
Oak character: We added a blend of French and American Oak to smooth out the tannins and deliver a velvety vanilla flavor.
Earthiness & smoke: Feeling that we needed more body we incorporated a tea blend to round out the mouthfeel. Puerh Tea, a fermented tea, was specifically used to add a layer of "earthiness" and Lapsang Souchong was chosen to compliment the spice of the Petite Sirah as well as bring a lightly smokey note to the wine.
Balance: The addition of premium cocoa mostly interplays with the wine and the oak to provide balance.
Nutrition Facts
Ingredients: De-alcoholized Red Wine Blend (Cabernet Sauvignon, Petite Sirah), Water, White Grape Concentrate, Cherry Concentrate, Oak Extract Blend (French Oak Extract, American Oak Extract), Natural Flavors and Extracts, Bourbon Vanilla Extract, Organic Tea Blend (Organic Puerh Tea, Organic Lapsang Souchong Tea, Organic Rooibos Tea), Premium Cocoa Extract, L-Theanine (from Green Tea), Organic Ginger Root Powder, Organic Ground Rosemary, Sulfites (Preservative)
Serving size: 5 oz
Servings per bottle: 5
Macros per serving:
5g of sugar
7g of carbs
30 calories
Note: There's tea in our wine, but caffeine is not listed in our nutritional label because there are only trace amounts - less than 5mg per serving. This is the same as decaffeinated tea. For contrast, green tea has 25-45mg of caffeine per serving.
Food Pairings
The smoky, meaty character lends itself perfectly to the grill.
Meat-based: Pair with almost anything from the grill, including lamb skewers, burgers, and ribs.
Plant-based: For veggie dishes, think grilled eggplant, beets, and veggie kebabs with mushrooms, onions, and green peppers.
Enjoy your Red Blend bottle lightly chilled.
Shipping
Allow 2-3 business days in processing time and 5-8 business days for delivery after your product has shipped. 
Complex, captivating & evolving
with every sip
Premium wine layered with
teas, botanicals & natural ingredients
Winemaking meets
molecular mixology
Life's too short for uninspired sips
If you've been disappointed by boring NA reds that remind you of grape juice, this is your upgrade.
Non-alcoholic Red Blend delivers complexity, warmth, and a cheeky little bite unlike any NA red out there.
And it's not just better. It's a completely unique sip.
Not a Cab. Not a varietal. An intentionally non-alcoholic red wine experience.
Your first sip starts with black currant, smoke and smooth vanilla notes, followed by earthiness from our organic fermented teas, and finishes with a touch of spice.
You'll enjoy a distinct beginning, middle, and end - like a fine wine.
Tantalizing in her allure, Red Blend will make you do a double take. As she acclimates to the heat of your hand and the swirl of your glass, she shifts and transforms to keep you guessing and always coming back for more.
Skip the alcohol, not the experience
No more settling for subpar substitutes when you're not drinking.
Red Blend brings out the best in your favorite eats and your favorite people.
Intentionally crafted to be enjoyed with delicious meals, she loves accompanying grilled delicacies and good conversations that stretch long into the night.
The smokey, meaty character lends itself perfectly to kebabs, burgers, grilled eggplant or ribs.
But it's also light enough to be versatile. Elevate your snacks with its touch of dark fruit, smoke, and herbs. 
Boldly Redefining Non-Alcoholic Wine
Hundreds of variations.
Almost three years of work.
That's what it took to lovingly craft Red Blend.
Winemaker Jess Smith and Craft Beverage Developer Michael Colangelo collaborated to combine traditional winemaking techniques with cutting edge molecular mixology.
The result? Something completely different from everything else in the wine world.
No other red comes close. 
Learn more
Red Blend FAQs
Will this taste like a typical red wine?
No. Red Blend was not created to be an exact replica or imitation of existing wine varietals. We set out to create something entirely new. Red Blend was crafted to redefine the red wine drinking experience - without the alcohol. If you enjoy complex NA drinks that have smoke, spice & character, you'll enjoy Red Blend.

What's the best way to enjoy Red Blend after I receive it?
Once you receive your bottle, we recommend to...
Chill your bottle. Red Blend tastes best lightly chilled - below room temperature is ideal.
Let the wine breathe before sipping. Decanting is highly encouraged, as your bottle of Red Blend may or may not present a slight fizz right after opening due to trapped nitrogen (which alcohol would normally break up in alcoholic wine).
Consume Red Blend within 3-4 days after opening and keep it refrigerated once opened.
Pair with grilled meats for a lovely experience.
I noticed organic teas in your ingredient label. Is there caffeine in this wine?
Caffeine is not listed in our nutritional label because there are only trace amounts - less than 5mg per serving. This is the same as decaffeinated tea.
For contrast, green tea has 25-45mg of caffeine per 8oz serving.
Why is the label of Red Blend different than your other wines?
Red Blend is a unique experience. We partnered with artist Hallie Brewer to bring to life a label that represents the originality of Red Blend. It'll look great on your bar cart.
Is Red Blend vegan, gluten-free and/or non-GMO?
Red Blend is not vegan, but it is gluten-free and non-GMO.